CONTACT: Tracy Hines Racing PR
tracyhinesracingpr@live.com
Tracy Hines Completes Another Solid Season in All Three USAC National Series

By Tracy Hines Racing PR

NEW CASTLE, Ind. — Dec. 3, 2013— Only one drive finished among the top-six in points with each of the USAC National series in 2013. In addition, just one driver was victorious in a Silver Crown car, Midget and Sprint Car in USAC National competition this season. That driver — Tracy Hines.

The veteran driver scored wins with the Traxxas USAC Silver Crown Series, Amsoil USAC National Sprint Car Series and the Honda USAC National Midget Series Pavement Championship. In points, Hines was the runner-up in the Honda USAC National Midget Series Pavement Championship, third in the Traxxas USAC Silver Crown Series, fourth in the Honda USAC National Midget Series Dirt Championship and sixth in the final tally for the Amsoil USAC National Sprint Car Series.

Hines, who piloted his self-owned Hansen's Welding Inc./The Carolina Nut Company DRC, opened the Amsoil USAC National Sprint Car Series season on a very strong note in Florida in February, winning twice at Bubba Raceway Park in Ocala. He also found Victory Lane in the debut of the Traxxas USAC Silver Crown Series at the Belleville High Banks in Kansas. Hines scored a pair of wins with the Honda USAC National Midget Series Pavement Championship at Pikes Peak International Raceway in Colorado and Lucas Oil Raceway at Indianapolis.

The native of New Castle, Ind., finished second overall in points with the Honda USAC National Midget Series Pavement Championship in the Parker Machinery/Powered by Toyota Spike. He won twice in eight races and finished eighth or better in all eight contests, with five podium finishes among the lot. Hines opened the pavement portion of the midget season with a third-place showing at New Smyrna Speedway in Florida, and was eighth in the finale of that two-night event. The veteran driver was quickest in qualifying twice on the pavement in a midget in 2013, with both of those coming at Lucas Oil Raceway at Indianapolis.

On the dirt with the Honda USAC National Midget Series this season, Hines earned 13 top-10 performances en route to finishing third in points. He earned a season-best second-place finish at Gas City I-69 Speedway during Indiana Midget Week. Hines matched that result on the preliminary night of the Belleville Midget Nationals in early August.

The 2000 Traxxas USAC Silver Crown Series champion picked up six top-10 finishes in eight starts in that series in 2013, piloting the Lightfoot Racing Beast. Along with his win at Belleville, Hines finished on the podium in the Hoosier Hundred at the Indiana State Fairgrounds and at Pikes Peak. He set fast time at Belleville and qualified among the top-five in five of the eight races. Hines wrapped up the season third in points.

Hines made a total of 33 starts with the Amsoil USAC National Sprint Car Series in 2013, recording 20 top-10 finishes. He scored a pair of runner-up finishes at Canyon Speedway Park late in the season during the Hall of Fame Classic. The 2002 series champion finished on the podium during the Eastern Storm Tour at Susquehanna Speedway in Pennsylvania, as well as at the Terre Haute Action Track in his home state of Indiana and at I-96 Speedway in Michigan. Hines stopped the clocks first on four occasions with the series in time trials in 2013. He wrapped up the season sixth in points in his first season driving his self-owned machine.

Hines ran his final race of the 2013 season last week at Perris Auto Speedway in California, in the Turkey Night Grand Prix. He finished 11th after qualifying ninth, with a stout field of over 40 cars in attendance.

Hines will open the 2014 campaign in Tulsa Okla., in January, with the running of the annual Chili Bowl Midget Nationals.

Tracy Hines Racing would like to thank: Hansen's Welding Inc., Parker Machinery, Powered By Toyota, Turbines, Inc., Afco Racing Products, Daum Crop Insurance, Schoenfeld Headers, Allstar Performance, Kenny's Components, Race Bumpers and Bell Racing.

For more information on Tracy Hines Racing, visit http://www.tracyhinesracing.com. Follow Tracy on Twitter at www.Twitter.com/TracyHinesRacin.

###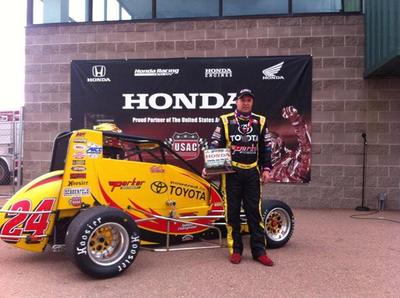 Photo Provided

#########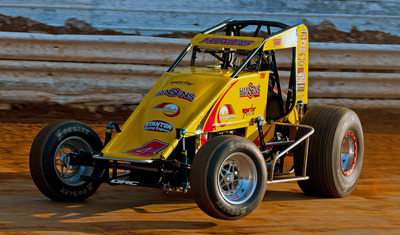 Photo Courtesy of David McCardell

Tracy Hines Racing would like to thank: AFCO Racing Products, Schoenfeld Headers, Turbines, Inc., Bell Racing Products, Sander Engineering, Kenny's Components, Race Bumpers, Radical RaceGear, Daum Crop Insurance and Indiana Underground Construction.


For more information on Tracy Hines Racing, including a complete 2013 schedule, visit http://www.tracyhinesracing.com.
Click the logo to return to:
Jack Hedstrom Web services.
Copyright © 2013 [Jack's Race Photos]. All rights reserved.