Tracy Hines to Climb the Belleville High Banks this Week

By Tracy Hines Racing PR

NEW CASTLE, Ind.—July 27, 2015— When it comes to big events in Midget racing, there is none bigger than the Belleville Midget Nationals in Kansas. Tracy Hines knows the history and aura of Belleville quite well and it is certainly an event he would like to win before his career is complete. Hines will have another chance to take on the legendary high-banked, half-mile this week, as the 38th Annual Belleville Midget Nationals hit the track for the Honda USAC National Midget Series.

The week will begin for Hines, who drives the Parker Machinery/Powered By Toyota Spike, on Tuesday, July 28 at Solomon Valley Raceway in Beloit Kansas, for the running of the Chad McDaniel Memorial. The Belleville Midget Nationals will open on Thursday, July 30, with a full preliminary racing program, which will set the stage for the finale on Saturday, August 1.

The races this week will mark his first back in the car, since suffering a broken rib on July 12 during Indiana Sprint Week at Lawrenceburg Speedway. Last month, Hines broke his collarbone in a midget accident at Lawrenceburg, which required surgery.

"Being out of the car the last couple weeks has definitely been tough," said Hines. "Getting healed up was the most important thing. Trying to get one injury healed was a big enough challenge, let alone two. Resting has helped quite a bit and while I probably won't feel completely comfortable in the car, I'll certainly feel better than I did a few weeks ago. It just takes time for everything to heal up."

Hines finished third last season at Solomon Valley Speedway in the Chad McDaniel Memorial. In 2013, he crossed the line fourth at the quarter-mile, which has become a staple leading up to the Belleville Midget Nationals.

Last year in the Belleville Midget Nationals, Hines finished fourth in the opener and was third in the finale. He also raced in the Traxxas USAC Silver Crown Series event at Belleville in 2014, finishing second. Hines won the Silver Crown race at Belleville in 2013. In his last four midget starts at the half-mile, Hines has finished fourth or better in all four.

"There is little room for error at Belleville," explained Hines. "It takes a lot of horsepower and the speeds we run there are pretty amazing. You get around that place in a hurry. You need your engine running right first and foremost, but you also have to have a car that will handle and maneuver."

Hines enters this week's races third in the Honda USAC National Midget Series standings, just six markers out of second and 27 out of the lead. He is in search of his first Honda USAC National Midget Series title, which would give him the elusive career Triple Crown, having already won a Traxxas USAC Silver Crown Series title and Amsoil USAC National Sprint Car Series championship. In six midget starts this season, Hines has five top-10 finishes, of which three are top-five performances.

"With everything that has happened this year, it's hard to believe we are still third in points and well within contention," Hines said. "This set of races is pretty important as is the East Coast ones coming up next month, as there are not too many midget shows left after those. We been fast all season in the midget and feel like we are right there knocking on the door."

Tracy Hines Racing would like to thank: Parker Machinery, Powered by Toyota, Turbines, Inc., Afco Racing Shocks, Schoenfeld, Stanton Racing Engines, Daum Motorsport, Indiana Underground, Hoosier, Bell and Drivin Racing Oil.

For more information on Tracy Hines Racing, visit http://www.tracyhinesracing.com. Follow Tracy on Twitter at www.Twitter.com/TracyHinesRacin and "Like him" on Facebook at: https://www.facebook.com/Tracyhinesracing.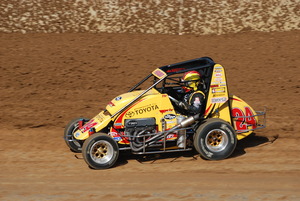 (Mark Miefert Photo)


CONTACT: Tracy Hines Racing P